Summer is in full swing and Milford is, too!

Since our last newsletter, we've added a few events to our summer calendar. Our classes have all filled up for the summer but you can expect to see a new slate of classes within the next month, for late summer and early fall. Until then, take a look at all the other Acorn Farm happenings to see where you might fit in! The next major event is a big one . . . .

Downtown businesses will be searching every nook and cranny, cleaning out their stockrooms and clearance shelves to stock the sidewalks full of great deals! Come down and browse! There will surely be something for everybody.

Friends, neighbors, boys, girls....bakers of all ages!




We need YOU to
Be a Good Cookie!
There are TWO ways
to help!



BAKE FOR THE
BAKE SALE to be held on:

In our last newsletter, you read about our upcoming bake sale to fund childhood cancer research through Cookies for Childhood Cancer. Now the date is quickly approaching and we'll be needing lots of your help! We need folks to bake cookies, cakes, pies, breads, muffins, or any other sweet treat that comes out of your oven. Do you know of a Girl or Boy Scout troop that needs a community service project? A National Honor Society student that needs a Community Service credit? Have them give us a call -- we could use their help. If you feel so moved, your baked good donations are extremely welcome! Bake something, package it to sell, and bring it down to the store before July 8th. We'll be selling the baked goods in the store all day. The aroma alone should be enough to bring in some folks to help us defeat childhood cancer. Every single penny brought in by the bake sale will go directly to Cookies for Childhood Cancer, a wonderful organization started by some "good cookies" whose own lives have been touched by childhood cancer.

When you're done reading our newsletter, please learn a little more about this organization, here.

COME TO THE BAKE SALE on FRIDAY, JULY 8th:


If you are unable to bake but you love to eat (and who doesn't?), you can help out in another way! Come to Acorn Farm on the 8th and buy some baked goods! Grab a lovely dessert for your weekend barbecue or cookies for your visiting grandkids. Every little bit helps in a very significant way by funding research that discovers better and less toxic treatments for kids with cancer. Who wouldn't want to help?
I SCREAM, YOU SCREAM . . .
Saturday, July 23rd, noon-3 pm -

FREE! No registration needed!
We all scream for ice cream! Come into the store on July 23rd to get a taste of summer. We'll be demonstrating all sorts of summer treat-makers, from Ice cream machines, Zoku Instant Icy Pop makers, to an easy-to-use ice cream sandwich mold! We'll even be showing a superb ice cream scoop invented by a local couple. We're hoping they'll be able to make an appearance on that day to tell you all about it.
As you can see, there are lots of sweet reasons to be in the store on July 23rd. Come down for a taste of summer. You KNOW you want to!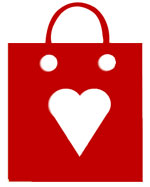 Saturday, July 30th - 10am - 5pm
RED BAG SATURDAY
ATTENTION RED BAGGERS! There is just over a month left before our third RED BAG DAY of the year, so put it on your calendar in big RED letters! We've got loads of great goods just waiting to go home with you at a 20% discount. Are you a part of our Kitchen Cash Club but haven't received a Red Bag? Any member of our KITCHEN CASH CLUB with two or more purchases recorded on their Kitchen Cash Card, is eligible to receive a Red Bag. Four times a year our Red Baggers can come in on RED BAG SATURDAYS and shop for most items in the store at 20% off. There won't be another Red Bag Day until the end of November so don't miss this one!



Make sure you come in to get your Red Bag BEFORE July 30th as they cannot be used on the day they are issued. Not a member of the Kitchen Cash Club? Come in and register. It's fast, free, fun, and....well..... REWARDING!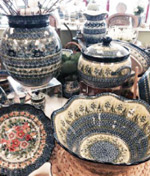 POLISH POTTERY SALE - KICK-OFF PARTY
Thursday, August 11th - 5-8 p.m.
Sale continues through August 14th!

It's our biggest event of the year! Our 8th Annual Polish Pottery Sale will kick off with our Polish Party on Thursday, August 11th with Polish Food, Polish Dancers, drawings, and more! Not to be missed, this is a great event, drawing Polish Pottery fans from all over! Every single piece of polish pottery in the store will be on sale for 20% off the normal price. We'll have an absolutely grand selection of everything from tiny pitchers to lovely covered roasters. Pass the word along to your friends. If they like polish pottery, they're going to LOVE this!
Happy Cooking!
Kathy Magaluk and all of us at Acorn Farm