As many of you know, our

COOKIES FOR KIDS' CANCER

Bake Sale took place over the weekend. It was an overwhelming success, raising a whopping $1,536.72 to fund research for kids' cancer treatments! A

HUGE THANK YOU

belongs to those of you who baked the goods to sell. We were truly moved by your generosity. Everyone who baked, baked something truly special and put their heart and soul into their donated items. Thank you, thank you, and thank you again! We'd also like to thank the folks who purchased goods at the bake sale. There were so many people giving over and above the price of the cookies that our donation jar was full in no time.

Thanks for your Help with our Bake Sale!

As the summer progresses, we still have many exciting events happening at

ACORN FARM

. We put out a few new classes last week, as well. One has filled but we still have a little room in the other - see below!

I SCREAM, YOU SCREAM . . .

Saturday, July 23rd, noon-3 pm -

FREE! No registration needed!

We all scream for ice cream! Come into the store on July 23rd to get a taste of summer. We'll be demonstrating all sorts of summer treat-makers, from Ice cream machines, Zoku Instant Icy Pop makers, to an easy-to-use ice cream sandwich mold! We'll even be showing a superb ice cream scoop invented by a local couple. We're hoping they'll be able to make an appearance on that day to tell you all about it.

As you can see, there are lots of sweet reasons to be in the store on July 23rd. Come down for a taste of summer. You KNOW you want to!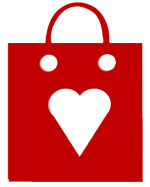 Saturday, July 30th - 10am - 5pm
RED BAG SATURDAY
ATTENTION RED BAGGERS! It's just a couple weeks before our third RED BAG DAY of the year, so put it on your calendar in big RED letters! We've got loads of great goods just waiting to go home with you at a 20% discount. Are you a part of our Kitchen Cash Club but haven't received a Red Bag? Any member of our KITCHEN CASH CLUB with two or more purchases recorded on their Kitchen Cash Card, is eligible to receive a Red Bag. Four times a year our Red Baggers can come in on RED BAG SATURDAYS and shop for most items in the store at 20% off. There won't be another Red Bag Day until the end of November so don't miss this one!



Make sure you come in to get your Red Bag BEFORE July 30th as they cannot be used on the day they are issued. Not a member of the Kitchen Cash Club? Come in and register. It's fast, free, fun, and....well..... REWARDING!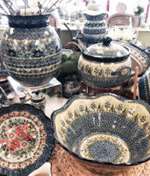 POLISH POTTERY SALE - KICK-OFF PARTY
Thursday, August 11th - 5-8 p.m.
Sale continues through August 14th!

It's our biggest event of the year! Our 8th Annual Polish Pottery Sale will kick off with our Polish Party on Thursday, August 11th with Polish Food, Polish Dancers, drawings, and more! Not to be missed, this is a great event, drawing Polish Pottery fans from all over! Every single piece of polish pottery in the store will be on sale for 20% off the normal price. We'll have an absolutely grand selection of everything from tiny pitchers to lovely covered roasters. Pass the word along to your friends. If they like polish pottery, they're going to LOVE this!
FAREWELL TO SUMMER -

only 3 spots left!

with Chef Steven Grostick
Wednesday, August 31st - 7-8:30 p.m. - $40
As summer comes to a close, we'll be celebrating the fabulous flavors of farm-fresh vegetables. You just don't get those flavors any other time of year. Let's enjoy the harvest together with this menu!

If weather permits, we might move this class outdoors, to enjoy the wonderful end of summer!
Lemon Blueberry Vodka Spritzer - the name says it all!
Shrimp burgers--delicious, right? A little panko, some scallions, bound together, seasoned and cooked to perfection, topped with a remoulade and put on a bun.
Corn chowder shooters - As corny as Kansas in August. Steven will put his spin on this fresh-off-the-cob delight
Fried green tomatoes- a traditional dish with a sauce/relish/salsa that will depend on what interesting ingredients Steven finds at the Farmer's Market.
Jicama salad - Oh my! When we first tried this recipe, three of us ate the whole batch. Amazing flavor, simple ingredients, you'll LOVE it! Avocados, red onion, oranges, and more.

Granitas - A light and refreshing summer dessert for a sweet ending. We'll serve two kinds; cucumber-basil and a watermelon-lime!
Happy Cooking!
Kathy Magaluk and all of us at Acorn Farm