SUMMER HAS ALMOST ARRIVED!


We love this time of year when we get to see all of you again. As the weather warms up, lots of exciting things start happening downtown. The

FARMERS' MARKET

is once again up and running on Thursdays and the first

SUMMER CONCERT IN THE PARK

happens tonight. We've got some great things happening at Acorn Farm as well!

THIS SATURDAY!


COOL BEANS

Saturday, June 11th, 11-2 p.m.

We've got some great things happening at

ACORN FARM

, as well! If you're able, pop into Acorn Farm this

Saturday, June 11th for Cool Beans!

Between 11am and 2 pm, we'll be serving up a little coffee and a little espresso! We'll welcome

Candy Massolia from BODUM

, demonstrating their line of Glasses, French Presses, and Travel Cups, and more. They're offering some pretty amazing pricing on these items in bright, summer colors, with French presses as low as $16.

We'll also be introducing our new espresso machines by

NESPRESSO!

Whether you love a rich, full-bodied shot of espresso or a cup of the finest coffee, Nespresso can make it for you! We'll show you how!

So hold off on your morning cup-a-joe this Saturday and have a cup on us! A little tiramisu on the side will start your afternoon off right.

We'll see you then!
GLAMPING & GRILLING WITH GROSTICK! -

only 4 spots open!
Wednesday, July 6, 2016 - 7:00 - 8:30pm - $40
with Chef Grostick

Just the aroma of something cooking on the grill evokes a flurry of childhood memories and some of the fun food of our youth! We're going to explore some of those great foods with a little more grown-up twist! Take a look at this simple but sophisticated menu:
Toas-tite Campfire Sandwiches - Three different delights for the gourmand to enjoy!
BBQ Pulled Pork on Cheddar & Scallion Cornbread
Tuna Melts with Havarti
Roast Beef with Mustard & Beer-Braised Onions on a Hoagie Roll
Grilled Carrot Salad - with cauliflower and french beans in a Tarragon Brown Butter Vinaigrette.
Mini Red Hasselback Potatoes - delicious potatoes, cut into a fan of sorts, topped with goat cheese, bacon & roasted garlic and and cooked until crisp on the outside, tender on the inside.
Cast Iron Trout - prepared to the perfection that only cast iron can produce. We'll finish it with a little pancetta and tomato sauce.
Campfire S'Mores - Oh, yes! We'll let Chef Grostick do his gourmet spin on these. Don't expect the same S'mores you had around your troop's campfire.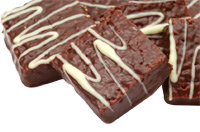 BE A GOOD COOKIE!
Friday, July 8th, All Day
Now's the time to bake a difference in someone's life! On July 8th, we will be hosting our
FIRST ANNUAL BE A GOOD COOKIE BAKE SALE!
We're asking you, our Kitchen Club members, to bake something to sell to raise money for childhood cancer research. Every penny raised from the bake sale will go to
COOKIES FOR KID'S CANCER
- an organization that grants funds to research new, improved, and less toxic treatments for childhood cancers. Since 2008 they have already granted more than $7 million, and have funded six dozen research projects. Twenty-six of those are now available treatments in the war on childhood cancer.
Where do you come in? How about a little baking? Cookies, cakes, pies - whatever you decide is just fine with us. Bring it to the store on July 7th, packaged and ready to sell. We'll price your goodies and sell them the next day, during the Milford Sidewalk Sales. Do you have a child or grandchild that would like to help do the selling? Call the store and we'll sign them up for a 30-minute block of time for "manning the booth" -- with our help, of course.
Tuesday, July 19 - 7:00 - 8:30pm - $40 -

FULL!
Wednesday, July 20, 2016 - 7:00 - 8:30pm - $40 -

only 4 spots open!


with Chef Grostick

The Olympics are coming! The Olympics are coming! While not many of us are going to be traveling to Brazil to watch the beloved games, we'd like to honor the host country with a fabulous spread of Brazilian favorites, full of bright and bold flavors.
Brazilian Lemonade - Start the evening cooling off with a simple Brazilian lemonade. Sweet, fresh, and made with, surprisingly enough, limes!
Salada de Couve com Manga - A salad with some great brazilian staples - mango and kale, with the crunch of pine nuts
Frango Churrasco - Chicken thighs, bathed in a perfectly seasoned marinade with garlic, lemon, and coriander, then skewered and grilled to a heavenly crispness.
Brazilian Pork Ribs - Toto, we're not in Kansas City anymore. Enjoy a distinctively different Brazilian sauce with soy, lime and parsley, a good dose of garlic and some unexpected herbs. A slow-simmer turns these into juicy moist ribs before they're finished on the grill for a fantastic char. You're about to experience a new "go-to" rib recipe for your repertoire!
Grilled Flank Steak with Root Vegetable Chips & Brazilian-Style Chimichurri - Enjoy some of the same flavors you'd find in the Caribbean islands but without the heat. The marinade carries the aroma of cumin, coriander, and lime and the chimichurri adds a beautiful freshness to the dish. Add a little crunch with the chips to finish it off and you'll be ready to fly the Brazilian flag.
Pudim - a lovely custard-like flan served with glazed and grilled pineapple and other tropical delights!
I SCREAM, YOU SCREAM . . .
Saturday, July 23rd, noon-3 pm -

FREE! No registration needed!
We all scream for ice cream! Come into the store on July 23rd to get a taste of summer. We'll be demonstrating all sorts of summer treat-makers, from Ice cream machines, Zoku Instant Icy Pop makers, to an easy-to-use ice cream sandwich mold! We'll even be showing a superb ice cream scoop invented by a local couple. We're hoping they'll be able to make an appearance on that day to tell you all about it.
As you can see, there are lots of sweet reasons to be in the store on July 23rd. Come down for a taste of summer. You KNOW you want to!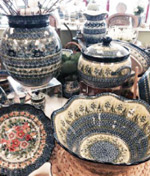 POLISH POTTERY SALE - KICK-OFF PARTY
Thursday, August 11th - 5-8 p.m.
We're already gearing up for our
POLISH POTTERY
event though it's months away. We'll be bringing in nearly ten times the amount of Polish Pottery that we usually carry, and every single piece will be
20% off
. This only happens once a year so we celebrate it with a party on that Thursday night. This year we are lucky enough to have a small contingent of young dancers from the Polish National Alliance Centennial Dancers to delight us with some traditional Polish folk dancing. You'll be able to shop, eat (our treat), and enjoy a cultural display like we've never seen in our store! Pencil it in and bring your babushka!
Happy Cooking!
Kathy Magaluk and all of us at Acorn Farm