HAPPY MARCH! It seems that March has blown in like the abominable snowman! Despite the weather, we've been enjoying some great classes here on Main Street. If you've not taken one this year, now is the time to sign up! We're continuing our virtual culinary trip around the world and I've listed our NEW, 2nd QUARTER CLASS AND EVENT SCHEDULE below. As always, call right away (248.684.1373) if you know you'd like to be in a certain class. They typically fill within the first few days so don't delay.



A WORD ABOUT OUR CLASSES -- most of our cooking classes are demonstration-style rather than hands-on, and are generally limited to 16 people in order to give everyone a good view and a more personal experience. When a class is scheduled and you sign up, we purchase and prep food for the amount of people who have signed up. For that reason, we are unable to refund the fee for the class should your schedule change and you find yourself having to cancel. You are, however, more than welcome to give your spot to someone else or to call and see if we have anyone on our waiting list that we can call.



Your evening includes class time from 7-8:30, a special coupon to use on the evening of class, and a nice packet of the evening's recipes to take home. At the end of class, you'll enjoy a plate full of all the delicious things prepared that evening.

Now, have a look at the great spring schedule we've put together for you!
ABUNDANCE BREADS

On Sale:

SATURDAYS -- March 5 and 12
We've been enjoying having Linda Skemp in the store the past few weeks, selling her homemade, whole-grain breads. She'll continue to be here the next two Saturdays from 11 a.m. until 2 p.m. with different selection of breads each week. Come have a taste! All of her breads are vegetarian and made of real ingredients that were grown in the ground, not created in a lab. She bakes her breads right here in Milford so come down and support a great local business!
SASHAY INTO SPRING!

Saturday, March 12 from 10:00am - 5:00pm -

FREE!
Due to recent weather, um, issues - none of us are feeling particularly spring-y. Yet, Easter is just weeks away (March 27th!). The temperatures that weekend should be in the 60's and we decided to invite you in for a little mini soiree! We'll be tasting some Michigan goodies from American Spoon and maybe a few more surprises. Anyone making a purchase gets to open an Easter egg to find out which gift we have for you! So, get up, get going, and get on down to Acorn Farm and have a look around. We've got loads of fun tools and gadgets that would be fantastic in an Easter basket for your friends, your mom, your adult kids, you name it! We have colorful peelers, scrubbers, Swedish dish cloths, and so many more great items --- you'll be tempted to keep them for yourself!
PAINTS & PIES WITH A PURPOSE

Thursday, March 24 from 7:00pm-8:30pm $15
What? You've never put those two together? Truth is---we haven't either so we're going to give it a try. Many of you are familiar with Community Sharing - a wonderful group that provides food, clothing, educational and emergency financial assistance to those in need in our area. Each year they run
The Empty Bowl Project
, highlighting the importance of making sure no one goes hungry. Here's how it works. Bowl-painting parties are held at homes and businesses for a charge of $15 per person. Your bowl then serves as your ticket to attend the main event - a simple meal of soup and bread donated by local chefs. Acorn Farm is hosting one of the painting parties and since we always think of March as "Pi Month," our staff will provide a variety of pies for your sampling pleasure! A donation of $15 (it all goes to Community Sharing) allows you to paint a bowl, enjoy some pie, and then attend the soup supper on May 15th. If you are unable to attend, you can donate your bowl to Community Sharing who will, in turn, sell it so that someone else can attend the soup night. Sounds like a win-win event to us! No experience necessary and all materials will be provided. We'll have a blast!
SPRINGTIME COOKIES

Wednesday, April 6 from 6:00 - 8:00pm - $30with Sharon Mancini
Sharon Mancini is a wonderful teacher and she loves to help you make great-looking (and tasting) cookies! This is a very hands-on class and Sharon brings everything you'll need to decorate 4 large springtime cookies. The skills you'll learn will translate easily to other cookies and you'll learn a great new skill! This class is a lot of fun and a great night out with a friend!The spring cookies we'll be decorating are a flower, a dragonfly, a butterfly, and a teapot!
VIVE LE FRANCE!

Thursday, April 7 from 7:00 - 8:30pm - $40with Brigitte Romero
Brigitte Romero is our very favorite French Chef and she always teaches us a new skill! Our last crepe class was so successful and there were far more people that wanted to be a part of it than spaces in the class. So, we're going to do crepes again! Although the class is still demo-style, each person will have the opportunity to make and flip a crepe. Here are the dishes she'll be showing:
- Mixed Vegetable Salad in a Basket - we're excited about this. A lovely mélange of vegetables, topped with asparagus and served in a tomato basket with a pastry handle. Gorgeous and oh-so-pretty for a shower or luncheon.
- Crepes filled with Braised Chicken in a Mushroom Bechamel Sauce
- Pan-sautéed Asparagus with Garlic, Lemon & Provencal Herbs
- Crepe Cake - Stacked crepes layered with a luscious Lemon-Butter filling and served with Fresh Berries.
If your mouth isn't watering yet, you haven't been paying attention!

WE'RE NO SPRING CHICKENS

Wednesday, April 13 from 7:00 - 8:30pm - $40with Stephen Grostick
We're No Spring Chickens, but we can teach you to prepare one! This delightful springtime class will be light and delicious, playing on a theme of citrus and spring!

- Spring Chicken a l'orange - Chicken pieces, bathed in a beautiful orange sauce, finished with fresh herbs.

- Herbed Wild Rice Pilaf Amandine - enjoy the earthy goodness of wild rice, savory herbs, and the nutty crunch of almonds.

- Salad of Arugula and Cara Cara Orange & Thyme-Marinated Olives - Add some lightly browned goat cheese croquettes for the perfect tang to set off this lovely salad. Sweet, salty, and sour all play off the slight bitterness of the arugula!

- Lemon Roasted Cauliflower - if you've not roasted cauliflower before, you haven't lived! Add a little lemon and it'll send you right over the moon!

- Lemon Curd Napoleans with Raspberries & Berry Coulis - needs no explanation, just a fork. Mmmmm!

THE BEST EXOTIC MARIGOLD HOTEL

Thursday, April 14 from 7:00 - 8:30pm - $40with Steven Grostick
Indian cuisine is aromatic, intense, complex in flavor and just plain delicious. It sometimes employs a whole different set of cooking skills from tempering the spices to grinding your own curry blends. Steven is going to give us a peek into some of these wonderful dishes, starting with a classic and adding a few dishes that he loves. All incorporate a lot of spices typical to Indian cuisine but no heat to be afraid of! And please don't worry, we'll learn how to pronounce them all before class!

- Butter Chicken (Makhani) - A true Indian classic, laden with a mildly-spiced curry, yogurt, green chilies and butter, of course! Marvelously creamy , served over a lightly-seasoned yellow rice.

- Chole Bhature - a classic curried chickpea dish served with any of a number of Indian breads. We'll be serving naan. So simple but so much flavor! Garnished with cilantro and served with fresh onion & lemon wedges.

- Baingan Bharta - a fabulous dish of charred eggplant, cauliflower and zucchini, seasoned Indian-style. If caponata married baba gannoush and honeymooned in India, this dish would be the result!

- Kulfi - a deliciously different dessert, an iced milk with pistachios and spices. Reminiscent of the flavor of a frozen chai latte. You'll want seconds!

THE CUTTING EDGE

Saturday, April 16 from 9:30am - 11:00am - $35with Ed Bartush
The one thing we all use in our kitchens every single day is a knife. With something that we use so much, it would be a shame not to use it as efficiently and expertly as possible. Sometimes it helps to have a little bit of instruction. Ed Bartush is our Wusthof representative, and he's a wonderful teacher, ready to show you the proper way to use your most common knives, how to hold them, care for them, sharpen them, and answer your questions. The class is hands-on, and each person will be slicing, dicing, and chopping right along with Ed. It's a lot of fun so sign up! Your fingertips will thank you. Each participant will leave with an Epicurean cutting board valued at over $20! Hurray! Class starts at 10:00 sharp. Very punny.

LOOK SHARP!

Saturday, April 16 from 12:00n - 3:00pm - FREE!with Ed Bartush
Ed will be happily sharpening your knives for free on April 16th. You can bring up to 3 knives, (no serrated please), and he'll get them in tip-top shape for you. The sharpening is free and we will have a donation jar for Community Sharing if you feel so moved!

LADIES NIGHT OUT!

Thursday, April 21

Ladies Night Out is a big favorite in Milford, and it only happens twice each year! This spring we'll be exploring an Earth Day/Green Theme with some wonderful products to go along with that topic. We'll be serving some of our favorite treats that we carry in the store, and highlighting some of the products that we're proud to carry because they reduce waste or are healthier for you and the planet! We hope you'll be a part of the fun!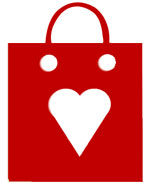 RED BAG DAY
Saturday, April 30 - ALL DAY!

April 30th will be our second Red Bag Day of 2016.
RED BAGS
are given to our Kitchen Cash members after they've filled their first Kitchen Cash Card. Whenever there are five Saturdays in a month, you're invited to come in on the fifth Saturday and bring your
RED BAG
to get
20% off most things in the store
. If you're already a Kitchen Cash Club Member, we really want you to have a Red Bag, so visit the store and we'll upgrade you. Not a member? Come and sign up! It's completely free! Fill out a Kitchen Cash Club Card; it stays in the store so you don't have to remember to bring it with you each time. Every time you make a purchase, we record it on your card. Once you've made purchases on six visits, we total the dollar amounts, take 10% of your total, and return it to you as a gift card to use on absolutely anything you want in the store! What's the catch? There isn't one!
A SPRINGTIME SOIREE

Thursday, May 5 - 7:00pm - 8:30pm - $40
May is such a lovely month. We begin to long for the lighter flavors of spring - peas, asparagus, fresh fish, etc. We've put together a lovely springtime menu for you that is perfect for treating your family or fabulous to share with friends. Colorful dishes with lively, bright flavors will make for a dinner they'll remember.
- Lemony Springtime Soup - A wonderful soup with fresh spring peas & rice, brightened with lemon and just a hint of mint.
- Poached Salmon - Poaching is a cooking technique that produces flavorful, moist fish every time. Come learn the secrets that make poaching a go-to method for your fish and fowl.
- Cucumber Dill Sauce - a great complement to the salmon, flavored with Dijon and fresh chives.
- Warm Glass Noodles with Edamame - the easiest and tastiest side you'll ever love. Goes together in minutes but tastes like you put in some serious effort. Some of us on this continent are just starting to experiment with things like edamame and cellophane noodles but there's no better time to start. We like this dish because it tastes great but it's also good for you! Edamame is full of protein, omega-3's, and all sorts of things your body needs!
- Madelines - a delicate and delightful little French cake, crispy on the outside, tender and moist on the inside. Ours will be scented with citrus and served with fresh strawberries and a reduction of white balsamic.
PASTA PERFECTION!

Wednesday, May 18 - 7:00 - 8:30pm - $40ORTuesday May 24 - 7:00 - 8:30pm - $40with Chef Steven
Yes, indeed! We're having another virtual visit to Italy with this cooking class. We know you're going to love it so we thought we better run it twice, allowing more of you to enjoy the wonders of great homemade pasta. Pick a day and give us a call! All of these dishes are so good, you might never want to leave!
- Open-Faced Fried Pasta Squares - Italian cuisine as a finger food! Little squares of tender pasta, fried and topped with mushrooms (we're hoping to get morels) sherried cream, and asparagus.
- Spinach Gnochino - a tiny little gnocchi with oven roasted tomatoes, garlic and oregano, balanced with a shaved Manchego cheese. So good!
- Outside-In Doppio Ravioli Bolognese - Chef Steven puts the Bolognese on the inside with this beautiful double-piped ravioli. Served aglio olio style -- coated with olive oil and fresh garlic -- and finished with basil and herbs.
- Gelato - smooth, creamy, cool, and flavored with caramel, espresso and toasted hazelnuts. Italy's answer to ice cream.
Happy Cooking!
Kathy Magaluk and all of us at Acorn Farm