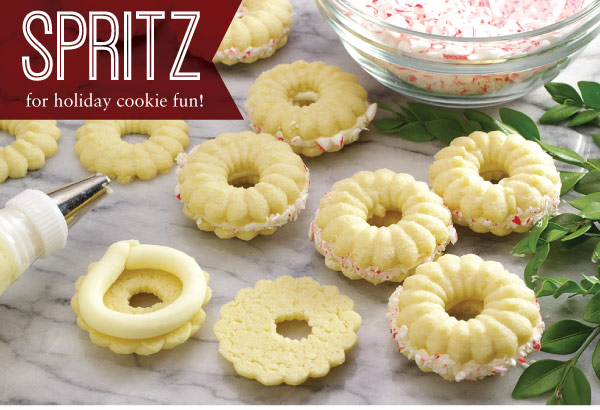 We're thinking ahead and getting our holiday baking plans ready! This year we're including lots of spritz on our baking list. These petite, buttery cookies take on many forms and flavors - perfect for holiday plates.


IN THIS ISSUE, you'll learn how to make spritz along with the all the tips and techniques that you'll need to be successful in pressing dozens of holiday cookies. They're fast to make, delicious to eat, and great to share!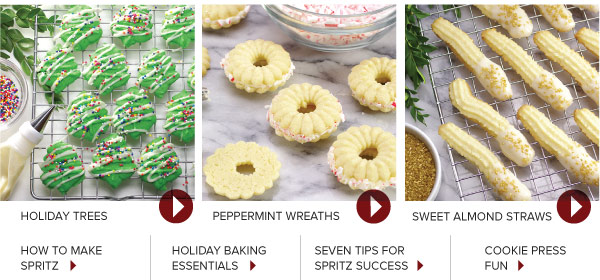 HAPPY NOVEMBER!

We want to thank all of you who came out for our Open House last Sunday. We had a great time visiting with all of you, and sharing some food & fun. Now the holiday shopping season has begun and you'll find all sorts of unique gifts for the home and kitchen at

ACORN FARM.



Don't forget that tonight, Thursday, Nov. 17th is

THE BIG REVEAL!

At 6:30 sharp, all the Village children tear the paper from the stores' windows, to reveal the beautiful and sometimes very elaborate displays behind the wrapping! It's always a fun time for the kids, and a good way to kick off the season. Then stop in to some of the stores for a peek at what's new!

EXTENDED - Order Now!
WELLSPRING FRESH CHRISTMAS TREE SALE

In the last e-news, you read about our Christmas Tree sale. We're delighted that they've ordered a few extra trees for us so there is still time to get on the list! You may purchase a Fraser Fir for $70, or a Scotch Pine for $50, and they'll be delivered on Main Street on December 1st (Milford's Christmas Open House.) Every penny of profit from the tree sales goes to

WELLSPRING DETROIT

, an amazing organization that assists urban youth in developing themselves socially, spiritually, academically, and economically. They've been around for thirty years and can always use your help! Looking for a little more convenience? For an extra $15, they'll deliver it right to your home in Milford! Give us a call (248.684.1373) or stop in to order yours.

If you're not purchasing a real tree this year, you can still help

WELLSPRING

with the click of a button. Visit our

Facebook page

,

where we've shared a post from Huron Valley Bank. "Like" the post and HVSB will donate $1 to Wellspring! That's an offer we can't refuse.

What a great day to shop! Many of the merchants in Milford have teamed up to do Give Back Friday, a more thoughtful twist on Black Friday. And, you don't have to get up at 3 in the morning to participate. Participating shops are finding a way to give back on that day, whether it's giving a certain percentage of their sales to a charity or selling one particular thing all for charity. ACORN FARM will be participating, of course, so we hope you'll be in to shop Milford that day!

RED BAG SATURDAY

It's that time again! RED BAG DAY is a week from Saturday, NOV 26th! We'll be opening at 8:00 that day for Red Bag Members! Bring in your RED BAG and get 20% OFF MOST THINGS in the store. Don't have a RED BAG? Any Kitchen Club member with at least two purchases on their card is eligible to get one of our RED BAGS. Make sure you do it before the 26th, as RED BAGS cannot be used on the day they're issued.



If you're not a member of our Kitchen Cash Club, by all means, come in and sign up. It's fast, free, rewarding, and the perks are great!
Happy Cooking!
Kathy Magaluk and all of us at Acorn Farm