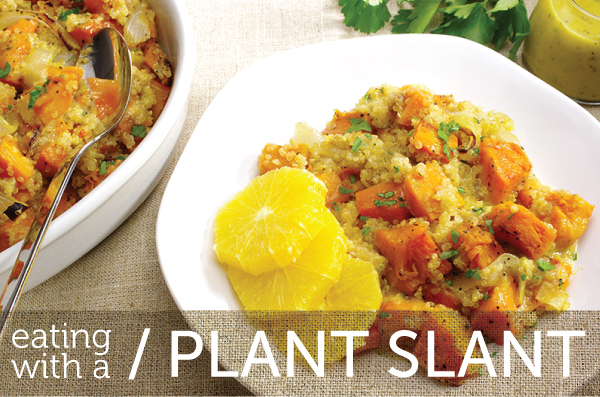 IN THIS ISSUE, we're getting reacquainted with our everyday kitchen and making a renewed commitment for making the healthy choice, the easy choice. Along the way, we'll help you learn cooking skills to build your kitchen confidence. We'll practice with some delicious, veggie-grain bowls -- you'll love their top-notch nutrition and fabulous flavors!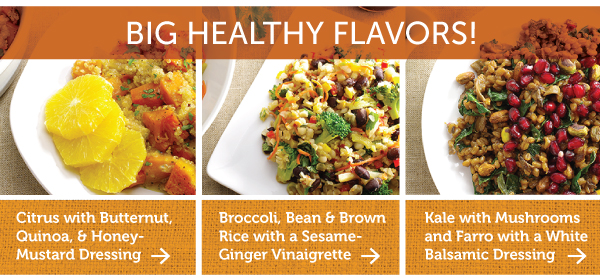 We hope you all enjoyed a wonderful holiday season! Now that 2016 has begun, we're getting the store inventoried, scrubbed and polished and ready for your shopping pleasure. We will reopen this coming Monday, January 11th. In the meantime, we will be answering our phones in order to take your class reservationsl As you can see, we have a plethora of palate-pleasing offerings. Book your spot now.

Our cooking classes are demonstration-style, limited to 16 people to give everyone a good view! You are provided a packet of recipes with plenty of space for notes, as well as a coupon to use on the evening of class. Payment is due when you register and is non-refundable, however, you can pass your spot along to someone else if you are unable to attend.

So, armed with your calendar and your phone, take a look at the classes we've offered and expand your culinary repertoire in 2016!


Wednesday, January 27 - 7:00 - 8:30pm, $40,

1 spot left

, OR

Thursday, January 28 - 7:00 - 8:30pm, $40,

1 spot left

CHINESE TAKE-OUT

with Chef Steven

We all love Chinese take-out but wouldn't it be convenient to put together those flavors at home? Now that Asian ingredients are readily available at the grocery store, learn to make those great dishes yourself with a little help from Chef Steven!

Wonton Soup - a filled wonton in a sea of flavorful broth
Chinese BBQ Baby Ribs with Sticky Sweet Sauce
Sesame Chicken with Broccoli - learn the basics, then use any protein you'd like, even tofu!
Sweet Chili Shrimp
Roast Pork Lo Mein with Fresh Vegetables - tender Asian noodles with the added texture and flavor of a variety of vegetables
Mango Pudding with Melange of Fresh Fruit - If you haven't fallen in love with the mango yet, you're about to!


Monday, February 1 - 12:30 - 2:30pm, $25, OR
Monday, February 1 - 6:30 - 8:30pm, $25


(Filling up quickly, but room still available)

THE POWER OF VITAMIX


What's so special about a VitaMix? Truth is, we didn't know either until we took the class! We had no idea just how versatile this amazing kitchen tool is for all sorts of kitchen tasks. It does smoothies, of course, but come and find out exactly what this thing can do! From healthy eating, to speeding up your food prep, you'll be amazed at it's capabilities.

This class is a true cooking class, not just your big box store demo. Each person leaves with a beautifully printed recipe booklet! The class is free for anyone who purchased a Vitamix from us this year. For everyone else, it's $25. However, book a spot for a friend and it's "buy a spot, get a spot free!" This is a great class at $25, but an even better one at half price! Here's a small sampling of what we'll be learning to make:

Tortilla Soup - hot and delicious, made right in your Vitamix, really!
Chopped Salad - you didn't know it could chop, did you?
Vinaigrettes, Nut Butters, Green Smoothies, Pesto, Hummus, and more!

Get the most out of your machine, and the produce department! We only do this once a year so book your spot now!

Wednesday, February 3 - 6:00 - 8:00pm, $30 -

CLASS FULL!

COOKIE LOVE


So many of you have been looking forward to learning how to decorate cookies! Sharon Mancini will teach you a thing or two and get you ready to make some great Valentine's Day cookies. She's a great teacher and she'll bring everything you'll need for class. You just need to book a spot and show up, prepared to have a little fun and learn something new. We'll be doing:

Two different Large Hearts
A cute little Scottie Dog (" I wuff you")
A "LOVE" Postage Stamp

This class is our only hands-on learning experience. Why not book two spots and bring your daughter, your mom, your spouse -- anybody that you'd enjoy spending some time with! This class is limited to 10 people so sign up quickly!

Thursday, February 4 - 7:00 - 8:30pm, $35,

2 spots left

THE BRITISH INVASION


British cuisine sometimes has a less than exciting reputation so we thought we'd explore some great dishes from across the pond. If you'd like to explore British fare but you think that steak and kidney pie is just going too far, we think we've found some middle ground!

Big British Meatballs - they're big, they're British, and they're good! Meatballs of steak & pork with a wee bit 'o cheese and seasoned to perfection. Brilliant!
Browned Butter Mashed Potatoes - Smashingly good!
Garlic & Shallot Haricot Vert - Slender, tender green beans cooked with garlic, shallots & butter.
Sticky Toffee Pudding - Everybody must have this deliciously decadent British favorite that is oh-so-much-more than the sum of its parts. Date cake, covered in toffee sauce and served with either vanilla custard or ice cream. It will have you cheering, "God Save the Queen!"

Thursday, February 11 - 7:00 - 8:30pm, $40,

3 spots left

HUMMUS FOR SOME OF US


with Chef Steven
Living in the Detroit area, we have a nice selection of Middle Eastern restaurants, but sometimes you just don't feel like going out. Middle Eastern cuisine is such a broad category but we tried to select some favorites that are common to most countries in that neck of the woods. Chef Steven will be teaching us to make these classics.

Tabbouleh - Fresh and fantastic! Lots of parsley, onions, and bulgur, seasoned just right. The perfect side salad whether you're having falafel or kabobs.
Falafel on Pita with Tzatziki Sauce, Tomato and Onion - Outstanding deep-fried balls or patties made from ground chickpeas served on a traditional pita with cucumber sauce and fresh vegetables.
Hummus - Steven will show us how to get the texture just right. Garlicky, lemony, tasty perfection.
Baba Gannoush (roasted eggplant dip) - The most uncomplicated dish ever created and divine in its simplicity. We'll turn you into devotee.
Lamb Kabobs - You can make them from beef or lamb -- they're delicious either way! Perfectly seasoned. Great for family fare or a dinner party.
Galaktoboureko - Can you say Galaktoboureko? No? Neither could we. It doesn't matter, though, because our mouths will be full of this delicious desert that is actually Greek in origin but typical of the dessert flavors you would find in Middle Eastern countries. A delicious custard, wrapped in phyllo, served with a sweet, clear syrup over all. An absolute delight!

Wednesday, February 17 - 7:00 - 8:30pm, $40, OR
Thursday, February 18 - 7:00 - 8:30pm, $40


(We've got room for you but it won't last long!)

THAT'S AMORE


with Chef Steven
You've no doubt read about our trip to the Amalfi Coast in April. This is our cooking school's nod to Italy for those of us unable to join the tour! Come and learn to make some dishes that you haven't prepared before. There's more to Italian cuisine than just spaghetti and pizza!

Crostini with Artichoke Paste - Mozzarella & roasted tomatoes - now THAT'S amore!
Broccoli & Salsicci - Broccoli rabe with sausage and fennel
Risotto Pescatore - A lovely seafood risotto.
Panzanella Salad - Of course, we'll put bread in the salad! Mangia!
Limoncello Mousse - Made with ladyfingers and sprinkle of fresh berries. What's not to love?

Thursday, February 25 - 7:00 - 8:30pm, $35,

one spot left

SOUP - THE LOVING SPOONFUL


Winter is indeed soup season and seeing that we have a few cold weeks left, we can tame the chill a bit with these great recipes. We'd like to stay in keeping with our Flavors of the World theme so we're choosing some that aren't our typical American mainstays. We're sure you'll love:

Five Onion Soup - Loaded with white, red & green onions, shallots and chives topped with a crispy piece of french bread and pungent cheese. Broil it up, we're ready to eat!
Creamy Tuscan Bean Soup - Homemade Parmigiano-Reggiano croutons over a silky smooth pureed bean soup. Fresh herbs and creme fraiche make it oh-so-special.
Albondigas Soup - All the flavors of Mexico in a delicious tomato-based meatball soup. Hearty and spicy, but no heat to be afraid of.
Focaccia - A good soup deserves good bread! Focaccia is so versatile, you can adjust the topping to the cuisine you're preparing.
Winter Night Berry Crisp - As good as it sounds, served warm with vanilla ice cream.

Wednesday, March 2 - 7:00 - 8:30pm, $40,

space still available




Thursday, March 3 - 7:00 - 8:30pm, $40,

only 2 spots left

WHEN IRISH EYES ARE SMILIN'


with Chef Steven
Ay, when Irish eyes 'r smilin', tis because th'r ettin some great food, they er! Come find out what all the fuss is about! This will be a great meal loaded with Irish favorites but delightful for the American palate. Delicious, stick-to-your-ribs comfort food, perfect for a cold winter night.

Balsamic, Beer-braised Short Ribs - Slowly braised or quickly prepared in a pressure cooker--Steven will show you both ways. Same great flavor for falling-apart-tender beef.
Parsnip Puree - So you'll have something delicious even during a potato crisis
Puff Pastry Rooster Potato Pie - The Irish answer to Shepherd's Pie, no roosters involved. Come learn about this unique little potato you've never heard of.
Sweet and Sour Carrots - Carrots kicked up a notch
Irish Apple Crumble Cake - A delicious Irish desert without booze. Faith 'n begorah! A traditional Irish favorite with crumbles and cinnamon. Sure to be a hit.

Thursday, March 10 - 7:00 - 8:30pm, $40 -

CLASS FULL!




MOTOWN MAGICAL MYSTERY MENU


I don't know if you all have been paying attention, but Detroit is an up and comer on the restaurant scene these days! We're glad to hear it and we're going to celebrate its success with this class. We'll be enjoying a class with Reed Shipman. You've likely met him before as he was Chef Steven's right hand man for many years. These days he is in the kitchen at one of Detroit's hottest restaurants, Gold Cash Gold. We're going to let him prepare some great food on the order of something you'd find dining in the Motor City.

Due to circumstances beyond our or his control, we don't have a menu yet, but we're glad to sign you up anyway! We're sure you'll be pleasantly surprised! We have great faith in Reed and know that he makes great food! We'll have a menu in place shortly.

Wednesday, March 16 - 7:00 - 8:30pm, $40,

space still available!

IT'S ALL GREEK TO ME!


The Mediterranean region plays host to some of the fabulous flavors of the world. Lots of fresh, sun-ripened tomatoes, olive oil, balsamic, fish fresh from the sea, and a bounty of vegetables. We thought you'd enjoy these traditional dishes.

Big Bean Bake - Just like Uncle Nikolos used to make! Elevate the lowly bean by simmering in a rich, herbed tomato sauce, brightened with citrus!
Briam - The recipe that will be in every Greek grandmother's cookbook! A delicious Greek roasted vegetable dish, hinting at ratatouille, but flexible with whatever is in season. Throw in a few potatoes and some goat cheese for good measure and you'll be hooked.
Sea Bass - Fresh fish and Greece go together like America and apple pie. If you want to know how to prepare it to perfection, look to the folks who eat it nearly every day! Great for your health, but even better for your taste buds!
Rizogalo - An exquisite grown-up rice pudding with wine-poached fruit. You'll be a fan, for sure.
Mini Thyme Breads - Baked in a flower pot or a little popover pan. Lots of thyme, lots of butter, lots of yum!

Thursday, March 31 - 7:00 - 8:30pm, $40,

only 2 spots left!

THE EXTRAVAGANT VEGETARIAN


with Chef Steven
This class is first and foremost delicious, and it just happens to be vegetarian. We hesitated to play up the vegetarian aspect because this class would be equally fantastic for omnivores! These recipes are so rich and toothsome that you'll never hear yourself ask , "Where's the beef?" If we hadn't told you, you'd never know!

Mushroom Bourgignon - Deep, dark flavors with fabulous steak-like mushrooms
Polenta Steaks with Pesto & Burrata - Oh yes! gooey burrata, luscious pesto, creamy polenta.
Roasted Cauliflower and Quinoa Salad - We took a vote and we all agree; we love cauliflower! Roast it for added flavor and throw in some quinoa for texture.
Chocolate Hazelnut Crepe Cake - Hmm . . . chocolate, hazelnuts, lots of cream . . .layered between delicious desert crepes. Count us in! A beauty to behold!

Happy Cooking!
Kathy Magaluk and all of us at Acorn Farm